Sonja MacCumhaill:
Irish Stock Exchange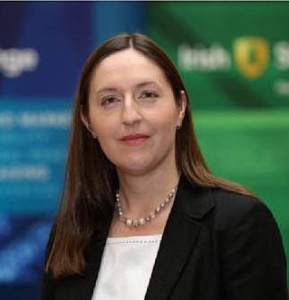 Your name?
Sonja MacCumhaill
What are the main tasks and responsibilities?
– Manage the relationship with the service providers to our trading and post-trade systems.
– Manage the functional and technical development of those systems
– Assess the impact of EU financial legislation on our business
– Setting and monitoring of trading parameters
– Issue management and communication
Describe a typical day
No two days are the same and most days consist of multiple tasks including:
– Phonecalls and e-mails to our clients, our service providers and other colleagues
– Reading relevant news items
– Keeping up with all the incoming e-mail
In addition I could be:
Reading documents re technical and functional developments, developments of competitors, EU legislation, policy proposals, Analysing market movements for potential impact of changes
What do you find most interesting?
The variety, the communication and the analysis and research.
What's not so cool? What are the main challenges?
Not much. Sometimes reading multiple drafts of EU legislation can be tedious.
How do you use mathematics within your job?
Basic maths used a lot (adding, percentages etc).
Also a small bit of SQL programming (BOOLEAN logic), financial analysis and modelling.
Also understanding mathematical statistics supports the role.
What type of mathematics do you use to solve problems?

Basic maths, financial analysis and modelling, SQL programmes
Who or what has most influenced your career direction?
Family members but mostly my own personal drive and knowing the type of work and environment that I like. Essentially a challenging and varied role which I get to talk to others, have a small bit of travel and lots of responsibility.
Does your job allow you to have a lifestyle you are happy with?
Yes. Mostly fixed hours with only occasional need to work late. A lot of responsibility compared with larger more structured companies.
What subjects did you take (and why did you take them?) in school and did they influence your career path?

For the leaving cert I choose German, French, Chemistry and Business Studies. They didn't really have an influence on my career path.
What is your education to date?
Secondary School: Confey College
Third level: BA  in Mathematics in Trinity College and M.Sc. in Financial and Industrial Maths in DCU.
I choose my degree on the basis that I enjoyed Maths and I wanted to study something that I would enjoy doing. I focused on that more than considering what job opportunities it would bring, however a Maths degree is a good basis for a wide range of jobs.
What aspects of your education have proven most important for your job?
Overall I find that Maths is a very well regarded degree to have. Statistics and Financial Maths were certainly beneficial but I find it is more the logical and analytical thinking required in Maths that provide a good skillset for the job rather than the actual course content.
Did you like maths at school?
Yes. Overall I found it came to me quickly and didn't struggle with any particular area of it. I had a particular good teacher for Junior Cert who enjoyed Maths and was committed to sharing her understanding with others.
What aspects of the mathematics curriculum or mathematics courses have proven most important for your job?

Mainly statistics and financial maths. However I believe it is more the skills behind the maths that are the most important.
What other skills do you think someone should obtain if they wanted to pursue your career?
Good communication skills, analytical skills, logical thinking, timekeeping and a high standard.
What advice would you give to someone considering this job?
They should enjoy varied and challenging work, be good with numbers, have good analytical skills, an inquisitive mind, like solving problems and achieving high standards. A degree in maths, economics or a financial related course would be beneficial.
What kinds of work experience would provide a good background for this position?
Anything in finance or trading.