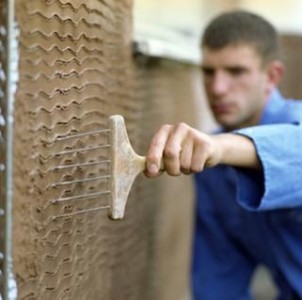 Your name?
James O'Brien
Your job title?
Plasterer
---
What are the main tasks and responsibilities as a plasterer?
My primary job to apply coats of plaster to interior walls, ceilings, and partitions of buildings to produce finished surface the builder's or contractor's specification.
How do you use mathematics?
I use ratios and geometry. For example, certain types of plaster will require different ratios of water to plastering compound, whether its cement for outdoor plastering or skimcoat plaster for indoor projects. To have an even finish we must keep this ratio constant throughout the project. Geometry is also used as plastering around windows and doors require borders to be level, straight, right-angled, etc.  For estimating the cost of jobs, arithmetic is used also percentages for VAT calculations…
Career Pathway?
I completed an apprenticeship with FAS (now Solas) after school.